Venice and the surrounding area
The hotel boasts a strategic location in an area where past and present meet.
Veneto is a region rich in history and beauties, both natural and architectural, to be discovered. It also offers countless opportunities for relaxing outings in the midst of nature, perhaps by bicycle, as well as for stimulating guided visits to museums or for delicious food and wine tours.
Here is what you can do during your stay at Venice Palace Hotel.
Set off from here: our hotel is located in Mirano, just 20 minutes by car from Venice and Padua!

History is tangible in Mirano, in its surrounding area, where the signs of Roman urbanization are still evident with the well-known Roman graticule and where the rich Venetian patricians built numerous and splendid villas in the golden ages from the sixteenth to the eighteenth century. Many of them are open to the public and you too can admire the architecture, the internal frescoes and the sumptuous gardens.

Close to the Mirano area is the Riviera del Brenta, which is known for local craftsmanship, especially in the sector of footwear, as well as design and furnishings, fashion and clothing, luxury goods and wine.

Venice (20 minutes by car) and its unparalleled charm. Venice is a magical city, and only those who have been there can really understand why. A charm, which seems to come from another planet, a place suspended in time, waiting to be discovered.
A city that needs no introduction, which we will help you become familiar with by giving you the best information on how to get there comfortably and how to fully enjoy its magnificent beauty.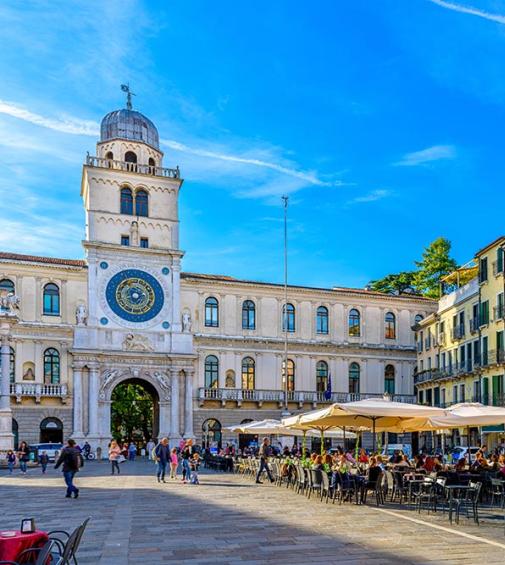 Padua (20 minutes by car), a lively and refined city, home to one of the oldest and most prestigious universities in Europe. Don't miss out on the Scrovegni Chapel, the Palazzo del Bò, the Prato della Valle, the Botanical Garden and the Basilica of Sant'Antonio.

Treviso (30 minutes by car), a city to visit in every season, breathing in its quiet and admiring original views. The city has several canals because it is crossed by two rivers, the Sile and the Cagnan, and surrounded by ancient walls. Also famous for its radicchio and wines, to be discovered along the Prosecco route and in the numerous wineries.

The Riviera del Brenta, an ideal continuation of the Grand Canal, is a large hydrographic, urban and monumental complex with villas overlooking the waters, surrounded by parks and gardens worth a visit to enter an ancient dimension. Do not miss a trip to the famous Burchiello.